Way Off the Road: Discovering the Peculiar Charms of Small-Town America
Unabridged Audiobook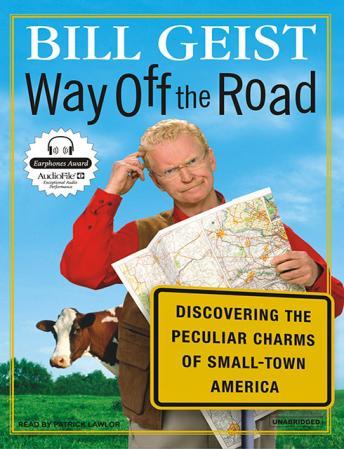 Duration:
7 hours 0 minutes
Summary:
Celebrated roving correspondent for CBS News Sunday Morning and bestselling author Bill Geist serves up a rollicking look at some small-town Americans and their offbeat ways of life.

'In rural Kansas, I asked our motel desk clerk for the name of the best restaurant in the area. After mulling it over, he answered: 'I'd have to say the Texaco, 'cuz the Shell don't have no microwave.''

Throughout his career, Bill Geist's most popular stories have been about slightly odd but loveable individuals. Coming on the heels of his 5,600-mile RV trip across our fair land is Way Off the Road, a hilarious and compelling mix of stories about the folks featured in Geist's segments, along with observations on his twenty years of life on the road. Written in the deadpan style that has endeared him to millions, Geist shares tales of eccentric individuals, such as the ninety-three-year-old pilot-paperboy who delivers to his far-flung subscribers by plane; the Arizona mailman who delivers mail via horseback down the walls of the Grand Canyon; the Muleshoe, Texas, anchorwoman who delivers the news from her bedroom (occasionally wearing her bathrobe); and the struggling Colorado entrepreneur who finds success employing a sewer vacuum to rid Western ranchers of problematic prairie dogs. Geist also takes us to events such as the Mike the Headless Chicken Festival (celebrating an inspiring bird that survived decapitation, hired an agent, and went on the road for eighteen months) and Sundown Days in Hanlontown, Iowa, where the town marks the one day a year when the sun sets directly between the railroad tracks.

Along the wacky and wonderful way, Geist shows us firsthand how life in fly-over America can be odd, strangely fascinating, hysterical, and anything but boring.
Genres: