The Way to Win: Clinton, Bush, Rove, and How to Take the White House in 2008
Unabridged Audiobook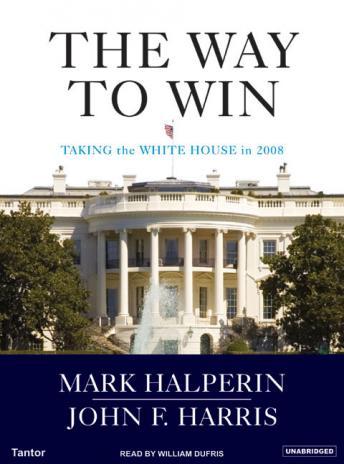 Duration:
16 hours 30 minutes
Summary:
In The Way to Win, two of the country's most accomplished political reporters explain what separates the victors from the victims in the unforgiving environment of modern presidential campaigns.

Mark Halperin, political director of ABC News, and John F. Harris, the national politics editor of The Washington Post, tell the story of how two families-the Bushes and the Clintons-have held the White House for a generation, and examine Hillary Clinton's prospects for extending this record in 2008. The Bushes and Clintons have dominated because they are the premier political innovators of their age; each family closely studies the other's successes and failures and uses these lessons to shape its own strategies for winning elections and wielding power.

In the case of George W. Bush, his strategic genius is Karl C. Rove- arguably the most influential White House aide in history. Halperin and Harris cut through the myths and controversies surrounding Rove, revealing in brilliant, behind-the-scenes detail what he actually does-his trade secrets for winning elections.

In the case of the Clintons, the chief strategist is Bill Clinton himself. Drawing on their fifteen years reporting on and interviewing him, Halperin and Harris deconstruct and decipher the Clinton style-identifying techniques that all candidates can use in their pursuit of the White House.

Halperin and Harris make clear that presidential politics can be even more cynical than people suspect. But they also make argue that the most important factors in the way to win the presidency are having significant ideas and prompting them in a disciplined way. The book takes a lively and irreverent approach while also making a serious argument: That every candidate who runs in 2008 must have a strategy for ensuring that he or she does not wind up like Al Gore or John F. Kerry, who allowed their public images to be hijacked by the likes of Matt Drudge and other impresarios of what the authors call, the 'Political Freak Show.'

On the brink of what will be one of the most intense, most exciting presidential elections in American history, The Way to Win is the book that armchair political junkies have been waiting for. Filled with peerless analysis and eye-opening revelations from the trenches, it is a must-read for everyone who follows American politics.
Genres: