We Are All the Same in the Dark: A Novel
Unabridged Audiobook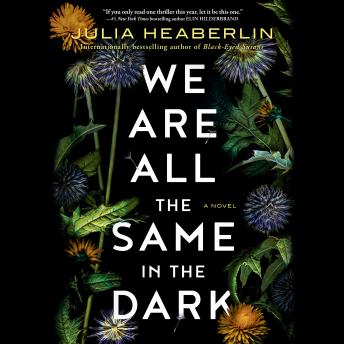 Duration:
10 hours 34 minutes
Summary:
NATIONAL BESTSELLER • PEOPLE PICK • OPTIONED BY SISTER PICTURES FOR TELEVISION • The discovery of a girl abandoned by the side of the road threatens to unearth the long-buried secrets of a Texas town's legendary cold case in this superb, atmospheric novel from the internationally bestselling author of Black-Eyed Susans

"If you only read one thriller this year, let it be this one. Psychologically absorbing, original and atmospheric. I could not turn the pages fast enough."—Elin Hilderbrand, #1 New York Times bestselling author of 28 Summers

It's been a decade since Trumanell Branson disappeared, leaving only a bloody handprint behind. Her pretty face still hangs like a watchful queen on the posters on the walls of the town's Baptist church, the police station, and in the high school. They all promise the same thing: We will find you. Meanwhile, Tru's brother, Wyatt, lives as a pariah in the desolation of the old family house, cleared of wrongdoing by the police but tried and sentenced in the court of public opinion and in a new documentary about the crime.

When Wyatt finds a lost girl dumped in a field of dandelions, making silent wishes, he believes she is a sign. The town's youngest cop, Odette Tucker, believes she is a catalyst that will ignite a seething town still waiting for its own missing girl to come home. But Odette can't look away. She shares a wound that won't close with the mute, one-eyed mystery girl. And she is haunted by her own history with the missing Tru.

Desperate to solve both cases, Odette fights to save the lost girl in the present and to dig up the shocking truth about a fateful night in the past—the night her friend disappeared, the night that inspired her to become a cop, the night that wrote them all a role in the town's dark, violent mythology.

In this twisty psychological thriller, Julia Heaberlin paints unforgettable portraits of a woman and a girl who redefine perceptions of physical beauty and strength.

Praise for We Are All the Same in the Dark

"This chilling tale of buried sins is relentlessly unpredictable."—The Times (South Africa)

"[Julia] Heaberlin knows how to build to a truly shocking twist, how to break a reader's heart and then begin mending it. 'What's coming is always unimaginable,' Odette's one-time therapist tells her, 'and by that, I mean just that. It cannot be imagined. What's coming never acts or behaves the way we think it will.' That's true for this novel, too."—The Dallas Morning News
Genres:
1 of 1 people found this review helpful.