Wear Your Dreams: My Life in Tattoos
Unabridged Audiobook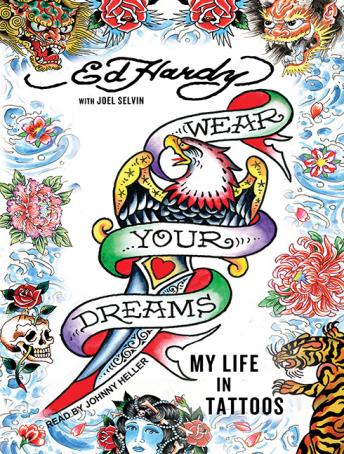 Duration:
8 hours 6 minutes
Summary:
'Ed Hardy' is emblazoned on everything from t-shirts and hats to perfumes and energy drinks. From Los Angeles to Japan, his colorful cross-and-bones designs and ribbon-banners have become internationally ubiquitous. But long before the fashion world discovered his iconic designs, the man behind the eponymous brand spearheaded nothing less than a cultural revolution.

In Wear Your Dreams, Ed Hardy recounts his genesis as a tattoo artist and leader in the movement to recognize tattooing as a valid and rich art form, through to the ultimate transformation of his career into a multibillion dollar branding empire. From giving colored pencil tattoos to neighborhood kids at age ten to working with legendary artists like Sailor Jerry to learning at the feet of the masters in Japan, the book explains how this Godfather of Tattoos fomented the explosion of tattoo art and how his influence can be witnessed on everyone, from countless celebs to ink-adorned rockers to butterfly-branded, stroller-pushing moms. With over fifty different product categories, the Ed Hardy brand generates over $700 million in retail sales annually.

Ideal for ink devotees and Ed Hardy aficionados alike, Wear Your Dreams is a never-before-seen look at the tattoo artist who rocked the art world and has left a permanent mark on fashion history.
Genres: