The Weaverbirds: Finding His Way Home
A free trial credit cannot be used on this title.
Unabridged Audiobook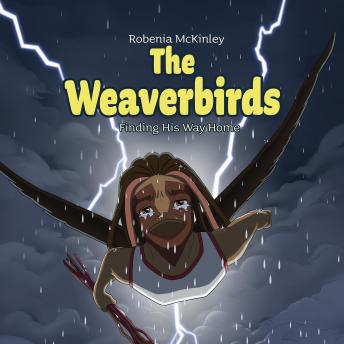 Duration:
1 hours 48 minutes
Summary:
IT HAD TURNED OUT TO BE A VERY POWERFUL AND WICKED STORM AFTER ALL...

This amazingly talented South African weaverbird encounters challenges he never imagined. Tahir finds his way to the acacia tree and sits under it, listening to the heartbreaking sounds coming from the birds. Teary eyed, he surveys the damage one last time, before flying off into the night. The special colored twigs he once held in his hand, were now left behind, lying under the acacia tree, as he flew off into the dark.

After flying aimlessly through the night, Tahir lands on a nearby patch of Savanna trees, housing a colony of weaverbirds. In the bright sunshine, he listens to the playful chatter of the young birds. What a stark contrast from what he left behind.

The Weaverbirds is an imaginative, whimsical and adventurous fantasy of love, loss, toxic relationships and natural disasters. The animated adventure journeys to the home of Tahir who loses his storm wrecked home, but yet learns to triumph over tragedy as he navigates his way through challenges along his path. He learns to conquer his fear, remorse and guilt instead of running from his problems. It's going to take the overcoming of many obstacles along his way to restore his family and attain the love he longs for, the beautiful Zarah. The love triangle Tahir becomes entangled in proves to be another difficulty he must deal with and overcome.
Genres: