A Weekend with Pablo Picasso
Unabridged Audiobook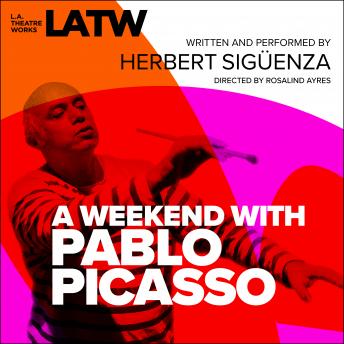 Duration:
1 hours 22 minutes
Summary:
In this one-man tour-de-force based on Picasso's writings, writer/performer Herbert Sigüenza (Culture Clash) takes on the role of the legendary artist, inviting the listener into Picasso's private studio for an intimate and revealing weekend as he prepares to deliver six new works to a buyer on Monday morning.

Includes a conversation with Herbert Sigüenza and Stephanie Barron, Senior Curator and Department Head of Modern Art at the Los Angeles County Museum of Art.

Recorded at The Invisible Studios, West Hollywood, in December 2020.

Director: Rosalind Ayres
Producing Director: Susan Albert Loewenberg
Herbert Sigüenza as Pablo Picasso

Senior Producer: Anna Lyse Erikson
Prepared for Audio by Mark Holden, The Invisible Studios, West Hollywood
Recording Engineer, Sound Designer, Editor and Mixer: Neil Wogenson
Original Music and Sound Design: Bruno Louchouarn
Narration by: Matthew Wolf
Senior Radio Producer: Ronn Lipkin
Foley Artist: Jeff Gardner

Lead funding for A Weekend with Pablo Picasso is generously provided by the Campizondo Foundation.
Genres: