What the Customer Wants You to Know: How Everybody Needs to Think Differently about Sales
Unabridged Audiobook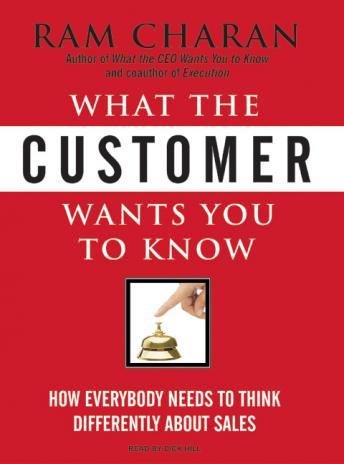 Duration:
4 hours 30 minutes
Summary:
The bestselling author of What the CEO Wants You to Know teaches you how to rethink sales from the outside in.

More than ever, these days, the sales process often turns into a war about price-a frustrating, unpleasant war that takes all the fun out of selling. But there's a better way to think about sales, says bestselling author Ram Charan, who is famous for clarifying and simplifying difficult business problems.

Instead of starting with your product or service, start with your customer's problems. Focus on becoming your customer's trusted partner, someone he or she can turn to for creative, cost-effective solutions that are based on your deep knowledge of your customer's values, goals, and problems. This powerful book will teach you:

-How to gain a deeper knowledge of your customer's company, including costs, values, and how decisions really get made

-How to help your customer improve margins and drive revenue growth

-How to focus on your customer's customers

-How to work with other departments in your own company to customize better solutions

-How to make price much less of an issue

Someday every company will listen more closely to the customer, and every manager will realize that sales is everyone's business, not just the sales department's. In the meantime, this eye-opening book will show you how to get started.
Genres: