What the Dead Leave Behind
Unabridged Audiobook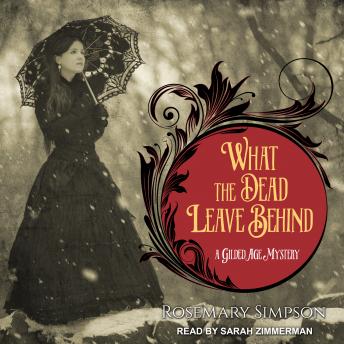 Duration:
12 hours 25 minutes
Summary:
As the Great Blizzard of 1888 cripples the vast machinery that is New York City, heiress Prudence MacKenzie sits anxiously within her palatial Fifth Avenue home waiting for her fiance's safe return. But the fearsome storm rages through the night. With daylight, more than two hundred people are found to have perished in the icy winds and treacherous snowdrifts. Among them is Prudence's fiance-his body frozen, his head crushed by a heavy branch, his fingers clutching a single playing card, the ace of spades . . .

Close on the heels of her father's untimely demise, Prudence is convinced Charles's death was no accident. The ace of spades was a code he shared with his school friend, Geoffrey Hunter, a former Pinkerton agent and attorney from the South. Wary of sinister forces closing in on her, Prudence turns to Geoffrey as her only hope in solving a murder not all believe in-and to help protect her inheritance from a stepmother who seems more interested in the family fortune than Prudence's wellbeing . . .

Filled with richly colorful characters, fascinating historical details, and thrilling moments of suspense, What the Dead Leave Behind is an exquisitely crafted mystery for the ages.
Genres: