What Would Macgyver Do?: True Stories of Improvised Genius in Everyday Life
Unabridged Audiobook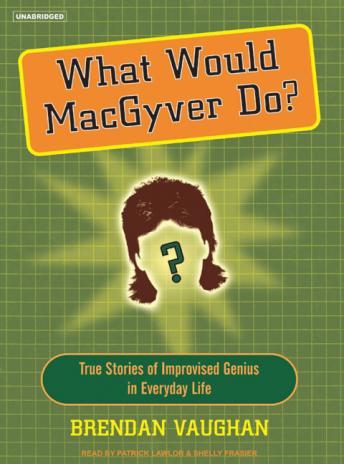 Duration:
5 hours 0 minutes
Summary:
You're driving on a deserted road when your car dies. Your cell phone isn't getting service. All you have on hand are a gum wrapper and a wire hanger.
Or maybe you're living in a building without central air conditioning in July. You can't afford an AC; all you have access to are a fan and a bucket of water.

In such times of desperation, many have called upon the symbol of all that is inventive, the hero who awed thousands with his cool, quick wit: 'What would MacGyver do?' they ask.

For anyone who has ever wished they could channel the 1980s action-adventure icon comes this clever collection of forty-five true stories, commemorating the use of improvised genius to solve everyday problems. Inspired by television's Angus MacGyver (played by Richard Dean Anderson), a secret agent who relied on his brains and scientific prowness-not to mention duct tape and a Swiss Army knife-to save the day, the 'MacGyverisms' recounted range from the concrete (using Chex Mix to provide traction in an icy parking lot) to the intangible (saving a relationship with the perfect turn of phrase). Edgy, entertaining, and smirk-to-yourself funny, these masterfully told stories reveal that, with a little luck and a lot of ingenuity, you can 'MacGyver' yourself out of virtually any predicament.
Genres: