Who Was Gertie Ford?
Unabridged Audiobook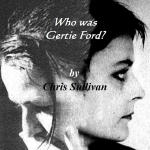 Duration:
6 hours 11 minutes
Summary:
In 1966, just two weeks after the IRA blew up Nelson's Pillar in O'Connell Street Dublin, Eddie McGrath is knocked down and killed by the airport bus near the spot where the Pillar used to stand. His death turns his seventeen year old daughter, Nuala, into an orphan. She never knew her mother, Gertie, at all, and when she looked into her father's things she found items of her mother that deeply disturbed her. The tale of Gertie Ford will take the reader to the west coast of Ireland, in search of Gertie, to a world of adventure, heartbreak and tragedy set in the mid forties and 1966 in Dublin, Sligo and Donegal. In Sligo, Nuala stays with a family of brothers under the pretence that she is going to marry one of them; in Donegal Gertie is introduced to poteen smuggling and in Dublin the reader is given a glimpse of the infamous Magdalene Laundries/Asylums. There will be heartbreak, rape and incest but it is very minimal as there is a lot of comedy, both in situations and dialogue, and the question as to what Gertie was doing in Dublin on that first day of Spring will be answered.
Genres: