Whom Not to Marry: Time-Tested Advice from a Higher Authority
Unabridged Audiobook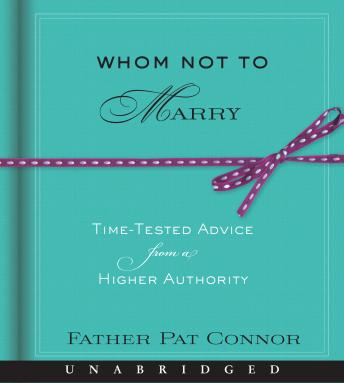 Duration:
3 hours 29 minutes
Summary:
The new single woman's Bible that shows how to distinguish Mr. Right from Mr. Right Now

Father Pat Connor knows marriages. Having presided over more than two hundred weddings and conducted pre-marriage and marriage counseling for more than forty years, he's something of an expert. And now he is sharing his wealth of experience with women everywhere on the subject of Whom Not to Marry.

Father Pat's philosophy is simple: A love affair may lead to marriage, but love itself cannot make a marriage work. That's why it's important to weed out the bad seed's before you fall in love. Sounds easy enough, but in the early stages of romance, when infatuation trumps judgment, it can be difficult to see the flaws in your mate and to think rationally about your future. That's where this book comes in. A heavenly how-not-to, Whom Not to Marry offers timely and time-honored advice such as: Never marry a man who has no friends, for he won't be capable of the intimacy that marriage demands.Never marry a man who isn't responsible with cash. Most marriages that flounder do so because of money, a case of 'til debt do us part.Never marry a man who lets you walk all over him. It's good to have a doormat in the house, but not if it's your husband.

Life may seem random, but there are many things you can do to make sure your life partner is the right one. It all starts with being honest with yourself. Use your good judgment, Father Pat counsels. Know what you want. Know who is worth loving and who is worth marrying. Once you can do that, you'll stand a much better chance of living happily ever after.
Genres: