Why Be Happy When You Could Be Normal?
Unabridged Audiobook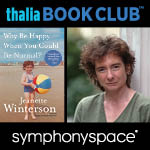 Duration:
1 hours 31 minutes
Summary:
Thalia Book Club:

The author of the international best-selling novel Oranges Are Not the Only Fruit tackles her own reality in her riveting memoir. In this remarkable book she confronts the various paths her childhood took, from being raised by a religious zealot who kept a gun in the dresser to pondering her sexuality and other core parts of her identity and the search for her biological mother. Funny, acute, fierce and celebratory, this is a tough-minded search for belonging, for love, a mother, an identity, and a home. In conversation with A.M. Homes, author of the recent novel, May We Be Forgiven and the memoir The Mistress's Daughter.
Genres: