WikiLeaks: Inside Julian Assange's War on Secrecy
Unabridged Audiobook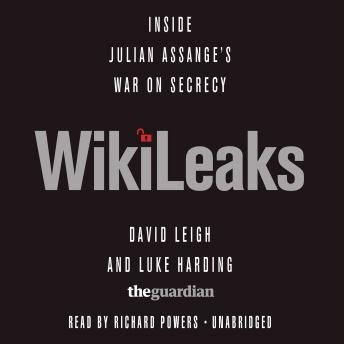 Duration:
13 hours 4 minutes
Summary:
A team of journalists with unparalleled inside access provides the first full, in-depth account of WikiLeaks, its founder Julian Assange, and the ethical, legal, and political controversies it has both uncovered and provoked.

The extraordinary twists and turns of WikiLeaks have been closely followed by the Guardian newspaper ever since the website launched in 2006, and Guardian journalists have had unprecedented access to all the major players, from angry and embarrassed politicians and diplomats to the extraordinary figure of Julian Assange himself. At different times Assange hid at David Leigh's homes. Here they reveal the many strands—legal, ethical, security related—of a story that continues to dominate world headlines. They look at the Internet culture and technology that made the mining of secret information possible and at the fanatical hackers who set up WikiLeaks. They explore the secret goings-on that WikiLeaks has uncovered, from the revelation of extrajudicial killings in Kenya in 2008 to the avalanche of US diplomatic cables in 2010. They study the implications of the latest revelations and reveal the strange and contradictory nature of Assange himself: a man praised by Amnesty International in 2009 but also, barely a year later, accused by Swedish police of sex crimes.

The WikiLeaks story has received worldwide attention and reaction. WikiLeaks: Inside Julian Assange's War on Secrecy presents the whole history of the organization and the ethical debate that surrounded the use of its material, plus the inside story of the personalities that created then threatened to destroy the website that has changed our view of secrecy forever.
Genres: