Wildflower Wedding: With a Killer Reception
Unabridged Audiobook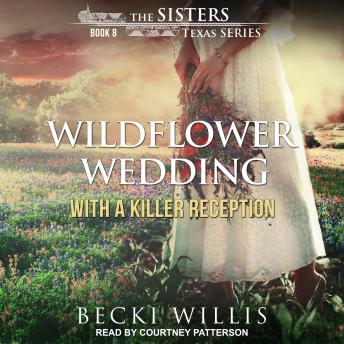 Duration:
8 hours 23 minutes
Summary:
It's the most anticipated wedding of the year in The Sisters, when Madison Reynolds and Brash deCordova finally tie the knot!

Wedding preparations are underway, but the aisle to the altar gets rockier by the minute. Though the community's support is humbling, their enthusiasm soon hijacks the wedding. Squeeze in a suspicious death during a Texas Independence Day celebration, the needy new widow Madison befriends, and the unscrupulous politician trying to unseat Brash as chief of police, and the path seems littered with obstacles.

Madison will move mountains to marry the man of her dreams. All they really need is each other, their children by their side, and a preacher to make it official. The couple opts for a private ceremony followed by a public celebration.

It's the perfect Wildflower Wedding, but who knew it would end in a killer reception?

Cantankerous Nigel Barrett hired In a Pinch Professional Services to find his estranged family, but it takes more than a home DNA test to find his next of kin. Madison suspects he was searching for an heir, but when the wealthy rancher is killed at their reception, she'll settle for finding someone to attend his funeral.
Genres: