With Malice Toward None: A Biography of Abraham Lincoln
Unabridged Audiobook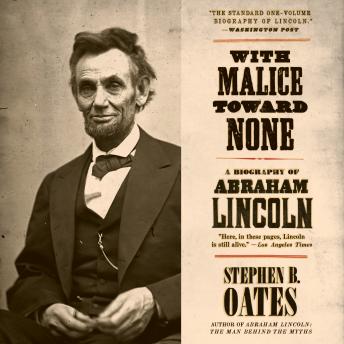 Duration:
21 hours 13 minutes
Summary:
"The standard one-volume biography of Lincoln." —Washington Post

"Certainly the most objective biography of Lincoln ever written." —David Herbert Donald, New York Times Book Review

The definitive life of Abraham Lincoln, With Malice Toward None is historian Stephen B. Oates's acclaimed and enthralling portrait of America's greatest leader. In this award-winning biography, Lincoln steps forward out of the shadow of myth as a recognizable, fully drawn American whose remarkable life continues to inspire and inform us today.

Oates masterfully charts, with the pacing of a novel, Lincoln's rise from bitter poverty in America's midwestern frontier to become a self-made success in business, law, and regional politics. The second half of this riveting work examines his legendary leadership on the national stage as president during one of the country's most tumultuous and bloody periods, the Civil War years, which concluded tragically with Lincoln's assassination.
Genres: