With Schwarzkopf: Life Lessons of The Bear
Unabridged Audiobook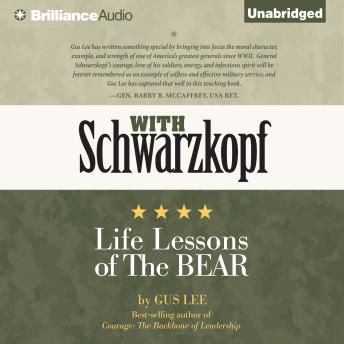 Duration:
13 hours 34 minutes
Summary:
In every age, a leader's courage uplifts a generation, inspires a nation, and alters the world. For many, that leader was four-star General H. Norman Schwarzkopf; for Gus Lee, that leader was his mentor "The Bear."

With Schwarzkopf: Life Lessons of The Bear is Lee's remembrance of a man whose unflinching character and wisdom forever changed Lee's life. Here Lee passes along the leadership lessons he learned from Norman Schwarzkopf to readers, combining the general's wisdom with personal anecdotes that are at once poignant and relatable.

In 1966, Lee was a bright, athletic, and popular junior-year cadet at West Point who was on the verge of getting kicked out due to his preference for playing poker rather than studying engineering. Then-Major Schwarzkopf challenged, tutored, and encouraged the wayward cadet onto a higher path, teaching him how to become a scholar, a soldier, and a man.

Lee's vibrant, witty narrative illuminates his more than forty-year relationship with Schwarzkopf through a firsthand account of Lee's time at West Point and his experiences in the Army and business world afterward. Lee reveals a side of Schwarzkopf that the public rarely saw: a tenacious, intellectual man whose bristling anger with his rebellious pupil was countered by moments of surprising emotional warmth and an inspiring commitment to always do right, no matter how difficult. Schwarzkopf's unwavering values and wise counsel helped Lee face difficult decisions and deal with crises at West Point, in the military, business, marriage, and in life, and brought the two men together in an unlikely friendship.

Through vivid accounts of his time with Schwarzkopf and his own personal struggles and triumphs, Lee shares the knowledge and insight of his mentor with listeners, delivering easy to understand but deeply impactful lessons for life.
Genres: