The Witness of Preaching: Third Edition
Unabridged Audiobook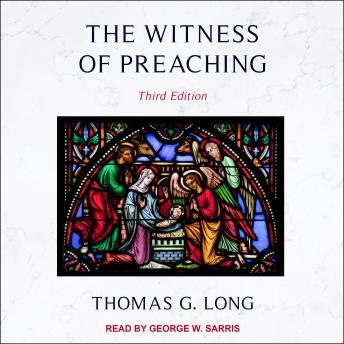 Duration:
14 hours 0 minutes
Summary:
This is a newly revised edition of one of the standard introductory preaching textbooks on the market today. Beginning with a solid theological basis, veteran preacher and bestselling author Thomas G. Long offers a practical, step-by-step guide to writing a sermon. Long centers his approach around the biblical concept of witness. To be a preacher, Long posits, is to be a witness to God's work in the world-one who sees before speaking, one whose task is to 'tell the truth, the whole truth, and nothing but the truth about what is seen.'

This updated edition freshens up language and anecdotes, contains an extensive new analysis of the use of multimedia and its impact on preaching, and adds a completely new chapter on plagiarism in preaching. Also included are four complete sermons, with Long's commentary and analysis. The sermons were written and originally preached by Barbara Brown Taylor, Cleophus J. LaRue, Ginger Gaines-Cirelli, and Edmund Steimle.

With this third edition, The Witness of Preaching reaffirms itself as the essential resource for seminary students as well as new and experienced preachers.
Genres: