Women, Work, and the Art of Savoir Faire: Business Sense and Sensibility
Unabridged Audiobook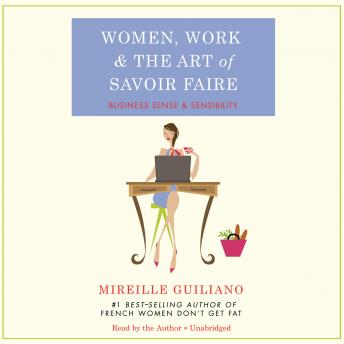 Duration:
7 hours 16 minutes
Summary:
From the #1 New York Times bestselling author of French Women Don't Get Fat comes every woman's guide to navigating the world of work, living the good life, and savoring every minute of it.
When Mireille Guiliano became a senior executive and spokesperson for Veuve Clicquot, she took the champagne to the top of the luxury market, using her distinctive French woman's philosophy and style. Now she uses those same talents and savoir faire to help readers pop their own corks and get the most out of life. Drawing on her experiences at the front lines and highest echelons of the business world, she gives women-and a few men, peut-être-the practical advice they need to make the most of work without skimping on all the other good things in life.
With lively lessons, stories, and helpful hints, Mireille teaches every reader how to identify her own passions and talents, improve her communication skills, balance work and life, cope with everyday stress, turn herself into a winning brand, and so much more. From acing a job interview or performance review to hosting a simple but elegant dinner party, Mireille tells it like it is as she shares her secrets for achieving happiness and success at any stage in business and life.
Stylish, witty, and wise, Mireille segues easily from the small details to the big picture, never losing sight of what is most important: feeling good, facing challenges, getting ahead, and maximizing pleasure at every opportunity.
Genres: