World and Town: A Novel
Unabridged Audiobook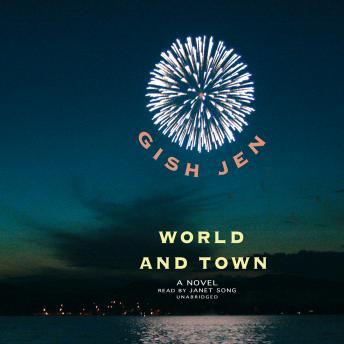 Duration:
15 hours 56 minutes
Summary:
Sixty-eight-year-old Hattie Kong, descendant of Confucius, daughter of an American missionary, has lived to see both her husband and her best friend die back-to-back in a single year: "It was like having twins…She got to book the same church with the same pianist for both funerals and did think she should have gotten some sort of twofer from the crematorium."
But two years later, it's time for Hattie to start over. She moves to a small New England town where she is soon joined by a Cambodian American family and an ex-lover—now a retired neuroscientist—all of them looking for their own new lives.
What Hattie makes of this situation and of the changing town of Riverlake—challenged as it is, in 2001, by fundamentalist Christians, struggling family farms, and unexpected immigrants—lies at the center of a novel that asks deep and absorbing questions about religion, home, and what "worlds" we make of the world.
Moving, humorous, and broad-ranging, World and Town is rich in character and brilliantly evocative of its time and place. This is a masterful novel from one of our most admired writers.
Genres: