YOU: Having a Baby: The Owner's Manual to a Happy and Healthy Pregnancy
Abridged Audiobook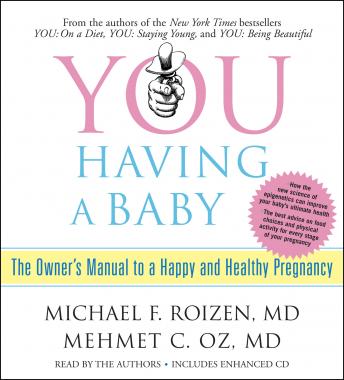 Duration:
5 hours 45 minutes
Summary:
America's favorite doctors Michael Roizen and Mehmet Oz cover pregnancy from conception to birth with the ins and outs of nutrition, exercise, hormones, fetal development, and many more pregnancy-related issues.

Few life experiences feature emotional swings as extreme as those of pregnancy—it's a monumental mix of both intense excitement and skip-a-beat anxiety. How do you respond to such a situation?

If you're like most, you scour websites, read books, browse blogs, and pick the brains of every friend, family member, and store clerk who's ever had a baby. You talk about the ups and downs, the cravings and the nausea, the maternity clothes, and the stretch marks. During this 280-day journey, this sometimes-scattered mindset is perfectly natural—and healthy.

Often, though, you need help cutting through the clutter. In YOU: Having a Baby, Dr. Mehmet Oz and Dr. Michael Roizen, America's Doctors, will help ease your tension by teaching you not only about what you can do but also why you should do it.

Using their signature wit and wisdom, they'll test your knowledge, bust many myths, and reassure you that your maternal instincts are usually pretty darn good. After all, the doctors want the exact same thing as you do during this journey—a healthy baby (and a healthy mom). Be assured that YOU: Having a Baby will be one of your favorite passengers on this wonderful ride.
Genres: