Your Management Sucks: Why You Have to Declare War On Yourself...And Your Business
Unabridged Audiobook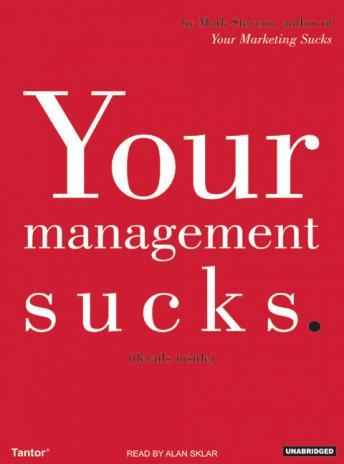 Duration:
7 hours 0 minutes
Summary:
Like a mirror, Your Management Sucks reveals important truths that you may deal with . . . or choose to ignore or put on the back burner.

Everyone manages someone or something . . . your own life and career, an administrative assistant, hundreds or thousands of people. How well or poorly you manage has a profound impact on your personal success.

Mark Stevens makes the compelling point that at any given time everyone's management sucks. It can, however, be improved and rethought so you can move away from patterns and habits that you can easily fall victim to. Start by declaring constructive war on yourself. Look in the mirror and identify those invisible traps and barriers. Then leave the land of business-as-usual with the seven-point plan Stevens has used to build both his own extraordinary career and his marketing and strategy consulting firm. You'll soon find that you're in the fast lane, easily outpacing your passive peers who rarely, if ever, challenge the how and why of what they do.
Genres: