Your Winner's Mindset Affirmations
Unabridged Audiobook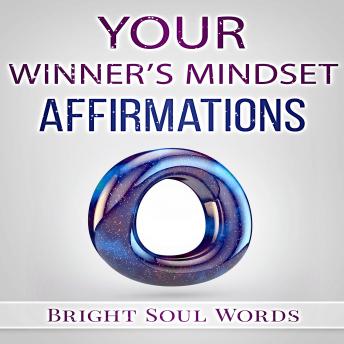 Duration:
3 hours 12 minutes
Summary:
Imagine how great you'll feel when you develop a winning mindset that allows you to achieve anything. It's good to realize this mentality is completely possible for you, isn't it? One of the things you are going to love about this program is how it trains your mind to think positive thoughts that inspire you to take action.

As you consider the benefits of thinking like a winner, you might like to think of how your life will improve with your new mindset.

This program is designed to help you:

• Retrain your mind to believe in yourself and your abilities
• Become kinder to yourself
• Develop a mindset that helps you achieve your goals

This audiobook includes:

• Chapters 1 to 2: Daytime Affirmations
• Chapters 3 to 4: Subliminal Affirmations

Once you realize it is easy to unlock the potential of your mind with specific thought patterns that you will soon possess, it will feel simple to make the right decision and to invest in yourself.

These affirmations have been designed and produced by Bright Soul Words, a brand obsessed with creating programs that rewire your mind for positive and lifelong changes.
Genres: