Youth in Revolt (Compilation): Youth in Revolt, Youth in Bondage, and Youth in Exile
Unabridged Audiobook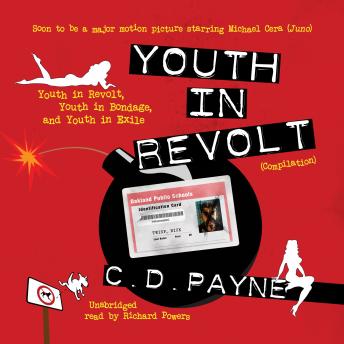 Duration:
25 hours 17 minutes
Summary:
Nick Twisp started out an honor student and ended up a fugitive. Youth in Revolt is the three-volume journal of Nick Twisp, California's most precocious diarist, whose ongoing struggles to make sense out of high school, deal with his divorced parents, and lose his virginity result in his transformation from an unassuming fourteen-year-old to a modern youth in open revolt.

Youth in RevoltAs his family splinters, worlds collide, and the police block all routes out of town, Nick must cope with economic deprivation, homelessness, the gulag of the public schools, a competitive Type-A father, murderous canines (in triplicate), and an inconvenient hair trigger on his erectile response—all while vying ardently for the affections of the beauteous Sheeni Saunders, teenage goddess and ultimate intellectual goad.

Youth in BondageNick Twisp is living in a wasteland with his stingy father while the female object of his fantasies is away at school. But when the FBI picks up his trail, Nick must rely on his tough alter ego, François Dillinger.

Youth in ExileHe didn't intend to burn half of Berkeley to the ground or create a media frenzy or enroll in high school dressed as a woman. However, he did, and it was just part of Nick Twisp's quest for sex and independence.

He's smart, he's horny, he's resourceful, and he's on the loose.
Genres: