The Zombie Chasers
Unabridged Audiobook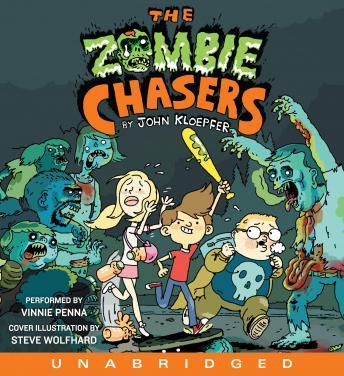 Duration:
3 hours 6 minutes
Summary:
'An irreverent illustrated chapter book that features a ton of gore and zombie mayhem, but portrayed in such a cartoony, over-the-top style that it will make kids chuckle more than scream.' (Brightly.com)

This is the first book in the heavily illustrated Zombie Chasers series by John Kloepfer. This fan-favorite is perfect for reluctant readers as well as fans of Diary of a Wimpy Kid and Dork Diaries.

A sudden zombie epidemic has turned a sleepover at Zack Clarke's house into a level three creep-over! Zack's sister is now a zombie; his living dead, flesh-eating neighbors have wrecked his house; and he's been left to fend them off with his sister's snotty BFF, Madison. Luckily Zack's nerdy pal Rice has a plan to defeat the undead…if these three zombie chasers can make it out alive.

Featuring John Kloepfer's signature hilarious and gory descriptions and Steve Wolfhard's hysterical black and white interior illustrations, this is an uproarious, gore-streaked kick-off to the ever-popular Zombie Chasers series!
Genres: