Zuvok
Unabridged Audiobook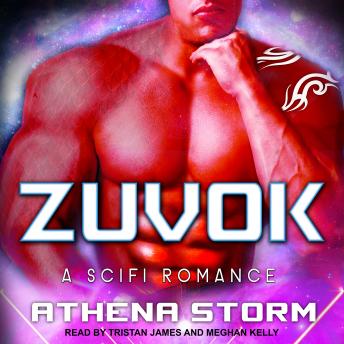 Duration:
4 hours 50 minutes
Summary:
I am Zuvok the Terror. Feared soldier of the Trident Alliance. And I will not do housework!

I relish the fury of combat. I love the adrenaline as I kill my enemies. Blood drips from my hands. Until I go too far.

So my commanders send me a foe that I never expected: my bride. A comely, curvy, human woman. A princess. She must be insane. She has to be if she agreed to be my mail order bride.

But I don't want a bride. Zuvok the Terror will not be tamed. He will not be civilized! He will not hang balloon valances on windows with pastel hued drapes. He will not dry dishes as she washes them! He will not sweep before he mops the floors!

But then, this tiny human woman does something more powerful than a killing blow from an Odex wielding a power-blade. She gets on her tip toes and wraps her arms around me, squeezing herself to me. She coos. And giggles. And kisses me on my nose. And my heart melts for her.

Zuvok the Terror? More like Zuvok the Terrier. Damn humans.

Contains mature themes.
Genres: