More Myself: A Journey
Unabridged Audiobook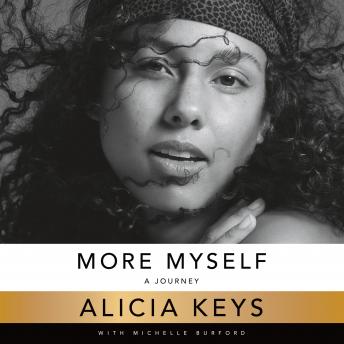 Duration:
9 hours 56 minutes
Summary:
**Winner of the 2021 Audie Award for Narration by Author or Authors**
**An AudioFile Earphones Award-winning production**

This program is read by Alicia Keys, with special guest appearances by family and friends, including Oprah Winfrey, Jay-Z, and Michelle Obama.

An intimate, revealing look at one artist's journey from self-censorship to full expression

As one of the most celebrated musicians in the world, Alicia Keys has enraptured the globe with her heartfelt lyrics, extraordinary vocal range, and soul-stirring piano compositions. Yet away from the spotlight, Alicia has grappled with private heartache—over the challenging and complex relationship with her father, the people-pleasing nature that characterized her early career, the loss of privacy surrounding her romantic relationships, and the oppressive expectations of female perfection.

Since Alicia rose to fame, her public persona has belied a deep personal truth: she has spent years not fully recognizing or honoring her own worth. After withholding parts of herself for so long, she is at last exploring the questions that live at the heart of her story: Who am I, really? And once I discover that truth, how can I become brave enough to embrace it?

More Myself is part autobiography, part narrative documentary. Alicia's journey is revealed not only through her own candid recounting, but also through vivid recollections from those who have walked alongside her. The result is a 360-degree perspective on Alicia's path, from her girlhood in Hell's Kitchen and Harlem to the process of growth and self-discovery that we all must navigate.

In More Myself, Alicia shares her quest for truth—about herself, her past, and her shift from sacrificing her spirit to celebrating her worth. With the raw honesty that epitomizes Alicia's artistry, More Myself is at once a riveting account and a clarion call to listeners: to define themselves in a world that rarely encourages a true and unique identity.

A Macmillan Audio production from Flatiron Books

"[Alicia Keys] often sings snippets of her music, which brings her story to life and elevates the listening experience. Spoken cameos from everyone from her husband to Michelle Obama add another layer of interest to the audiobook. Keys fans will be delighted by the behind-the-scenes stories she shares; those unfamiliar with her music will still enjoy her upbeat, unpretentious narration." -- Booklist
Genres:
2 of 2 people found this review helpful.