Afterlife
Unabridged Audiobook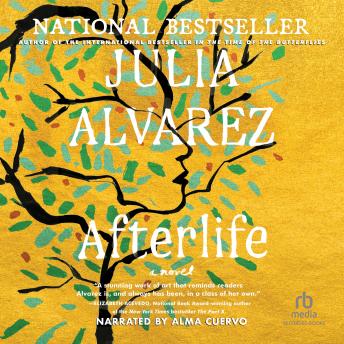 Duration:
6 hours 26 minutes
Language:
Spanish
Summary:
The author of In the Time of the Butterflies, with more than one million copies in print, is back with a tour de force.

Antonia Vega, the immigrant writer at the center of Afterlife, has had the rug pulled out from under her. She
has just retired from the college where she taught English when her beloved husband, Sam, suddenly dies. And then
more jolts: her bighearted but unstable sister disappears, and Antonia returns home one evening to find a pregnant,
undocumented teenager on her doorstep. Antonia has always sought direction in the literature she loves—her favorite
authors' lines play in her head like a soundtrack—but now she finds that the world demands more of her than words.

Afterlife is a compact, nimble, and sharply droll novel. Set in a small Vermont town, it shows how culture and
politics intersect with place and asks: What do we owe those in crisis in our families, including—maybe especially—
members of our human family? How do we live in a broken world without losing faith in one another or ourselves?
And how do we stay true to those glorious souls we have lost?
Genres:
1 of 1 people found this review helpful.