Honey Farm Dreaming
Unabridged Audiobook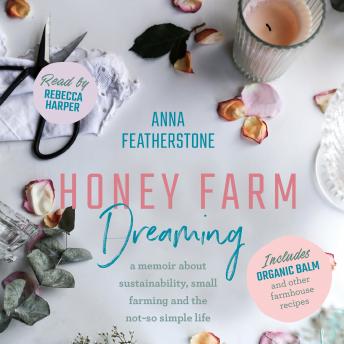 Duration:
8 hours 40 minutes
Summary:
Immerse yourself in this delightful memoir about a decade of life on a small Australian farm.



This is an audiobook for anyone who enjoys being transported to another life and lifestyle, or who is interested in bees, homesteading, small farming, animals, organic gardening, farmers markets, human nature and the hilarity and hardship that goes with all that.



Funny, moving and engrossing you'll be transported to a world where one family tries to keep it all together as they juggle a farmyard full of animals, thousands of tourists in the garden, a hundred backpackers in the house, millions of bees in the air, and their commitment to the environment and each other.



Buzzing with good humour, moving moments and interesting stories, discover more about the 'simple life' and enjoy a good laugh from this well-reviewed memoir in which author Anna Featherstone lays bare what it's like to follow your dreams and to find success, failure and finally understanding along the way.



An added bonus at the end: delightful farmhouse recipes and tips for creating your own organic lip and skin balms.



This book is read by Australian audiobook narrator Rebecca Harper.
Genres: