The Passage: A Novel (Book One of The Passage Trilogy)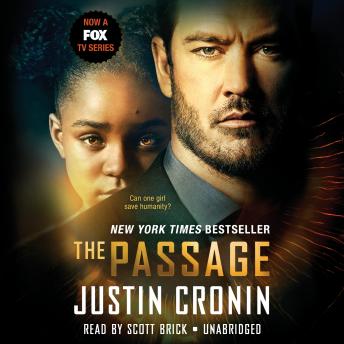 Duration:
36 hours 50 minutes
Summary:
NEW YORK TIMES BESTSELLER • This thrilling novel kicks off what Stephen King calls "a trilogy that will stand as one of the great achievements in American fantasy fiction."

NOW A FOX TV SERIES!

NAMED ONE OF PASTE'S BEST HORROR BOOKS OF THE DECADE • NAMED ONE OF THE TEN BEST NOVELS OF THE YEAR BY TIME AND ONE OF THE BEST BOOKS OF THE YEAR BY The Washington Post • Esquire • U.S. News & World Report • NPR/On Point • St. Louis Post-Dispatch • BookPage • Library Journal 

"It happened fast. Thirty-two minutes for one world to die, another to be born." 

An epic and gripping tale of catastrophe and survival, The Passage is the story of Amy—abandoned by her mother at the age of six, pursued and then imprisoned by the shadowy figures behind a government experiment of apocalyptic proportions. But Special Agent Brad Wolgast, the lawman sent to track her down, is disarmed by the curiously quiet girl and risks everything to save her. As the experiment goes nightmarishly wrong, Wolgast secures her escape—but he can't stop society's collapse. And as Amy walks alone, across miles and decades, into a future dark with violence and despair, she is filled with the mysterious and terrifying knowledge that only she has the power to save the ruined world.

Look for the entire Passage trilogy:
THE PASSAGE | THE TWELVE | THE CITY OF MIRRORS

Praise for The Passage

"[A] blockbuster."—The New York Times Book Review

"Mythic storytelling."—San Francisco Chronicle

"Magnificent . . . Cronin has taken his literary gifts, and he has weaponized them. . . . The Passage can stand proudly next to Stephen King's apocalyptic masterpiece The Stand, but a closer match would be Cormac McCarthy's The Road: a story about human beings trying to generate new hope in a world from which all hope has long since been burnt."—Time

"The type of big, engrossing read that will have you leaving the lights on late into the night."—The Dallas Morning News

"Addictive."—Men's Journal

"Cronin's unguessable plot and appealing characters will seize your heart and mind."—Parade
Genres:
1 of 1 people found this review helpful.

1 of 1 people found this review helpful.