Retirement 101: From 401(k) Plans and Social Security Benefits to Asset Management and Medical Insurance, Your Complete Guide to Preparing for the Future You Want
Unabridged Audiobook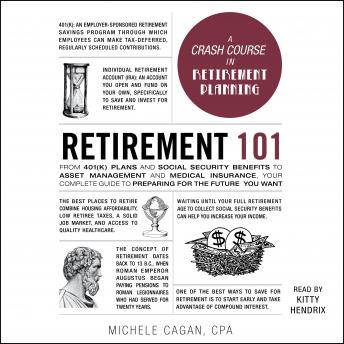 Duration:
7 hours 20 minutes
Summary:
A comprehensive and easy-to-understand guide to the ins and outs of retirement planning—the key resource for creating a retirement you can live on!

How much do I need to retire? Can I retire early? What's the retirement age, anyway? No matter whether you are 25, 65, or any age in between, you probably have questions about retirement and knowing the answers is the key to planning your future. Whether you want to retire as soon as possible or are looking forward to continuing to work in some form for as long as you can, Retirement 101 guides you through each step as you approach this important milestone.

From how to save for the day when you stop—or scale back—working to smart investment strategies to the best states to retire in to how to calculate your benefits, Retirement 101 helps you create a retirement plan to accomplish your goals, whatever they are.
Genres: