Slow: Simple Living for a Frantic World
Unabridged Audiobook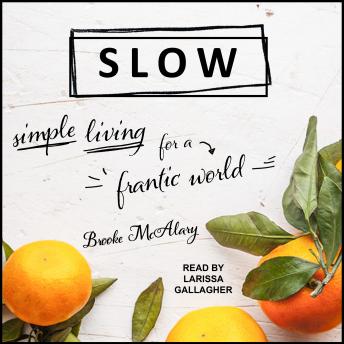 Duration:
5 hours 47 minutes
Summary:
Are you constantly striving to keep up with life's busy expectations? It's easy to feel consumed with the desire to 'succeed' and 'acquire,' and miss the simple opportunities waiting for you to slow down: a walk in the forest, sharing laughter with family, a personal moment of gratitude . . .

Once upon a time, it became clear to Brooke McAlary that the key to happiness was discovering a simpler, more fulfilling existence. She put the brakes on her stressful path, and reorganized her life to live outside the status-quo, emphasizing depth, connection, and meaningful experiences. Alongside Brooke's affirming personal stories of breaking down and rising up, Slow provides practical advice and fascinating insights into the benefits and challenges of the slow life, such as: decluttering to de-owning; messiness to mindfulness; and asking why to asking where to now?

Slow is an inspirational guide on creating a life filled with the things that really matter, and is meant for anyone seeking peace, meaning, and joy in their otherwise rapid lives.
Genres: