Terms of Engagement: Stories of the Father and Son
Unabridged Audiobook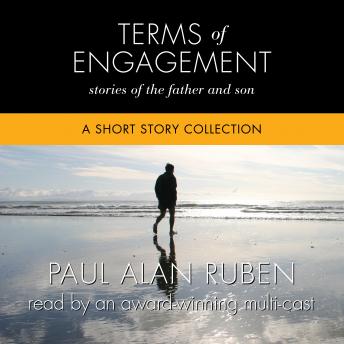 Duration:
9 hours 17 minutes
Summary:
Terms of Engagement explores father and son as intimate enemies, each yearning to be understood, acknowledged, and validated by the other. Raw and gripping, these nine stories take place in collision territory - where father and son engage in trying to repair their alienation. Despite this, hope is the theme that pulses through the collection. Hope propels: a desperate father's attempt to get his stay-at-home son off his ass and functioning like an adult; a teenager's uncertain effort to rescue his emotionally distant father; a thirty-year father's strategy to reconnect to his estranged son; and a new dad to break free of his own father's insidious influence.

Terms of Engagement delves into the heart of the matter: who am I, as a human being?

As an audiobook producer/director, Paul Alan Ruben has won numerous industry awards, including two Grammy Awards for Best Spoken Word. He's been published by Pif Magazine, Pennsylvania English/35 and Connotation Press, and contributed to various non-fiction print and online publications. He lives in Brooklyn, NY.

The breath-taking cast of narrators featured in this recording have won Audie Awards, Grammy Awards, innumerable AudioFile Earphone Awards, and beyond their narration talents, have been celebrated on stages and screens all over the world.
Genres: