Twisting Fate: My Journey with BRCA-from Breast Cancer Doctor to Patient and Back
Unabridged Audiobook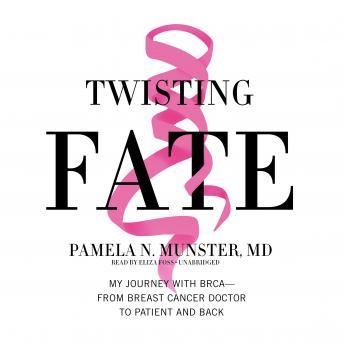 Duration:
8 hours 25 minutes
Summary:
A practical yet personal guide to the medical and emotional facets of breast cancer, from a woman who's made her living researching the disease-and lived through it herself
A leading oncologist at the University of California-San Francisco, Dr. Pamela Munster has advised thousands of women on how to deal with the life-altering diagnosis of breast cancer. But when she got a call saying that her own mammogram showed 'irregularities,' she found herself experiencing a whole new side of the disease she thought she was an expert in.
Weaving together her personal story with her team's groundbreaking research on the BRCA gene-responsible for not only breast cancer but also for many other inherited cancers affecting both women and men-Twisting Fate is an inspiring guide to living with BRCA mutations. With authority, insight, and compassion, Dr. Munster uses her voice to create a safe space for genuine healing and honesty in a world otherwise dominated by fear.
Genres: