Hitler's Scientists: Science, War and the Devil's Pact
Unabridged Audiobook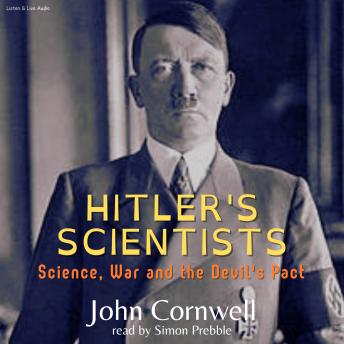 Duration:
6 hours 21 minutes
Summary:
By the first decade of the twentieth century, Germany was the Mecca of science and technology in the world. However, by the beginning of the First World War, Germany began to display some of the features that would blight the conduct of ideal science through the rest of the century.

After Hitler came into power in 1933, science and technology were quickly pressed into service by racist, xenophobic idealologies. From 1939 to the war's end, scientists working under military control began research on nuclear chain reaction with the prospect of arming Hitler with an atomic bomb. By 1943, few areas of German science, technology, and industry had not been experimentation and mass killing.

How German scientists behaved in the era spanning the beginning of the First War and the end of the Second raises many questions, disturbing and relevant to this day, about how scientist act under pressure of social and political circumstances and events. In pondering the moral and political predicament of the unregulated pursuit of scientific progress, Hitler's Scientist today prompts uncomfortable parallels with the past.
Genres: