A Kiss Before Dying
Unabridged Audiobook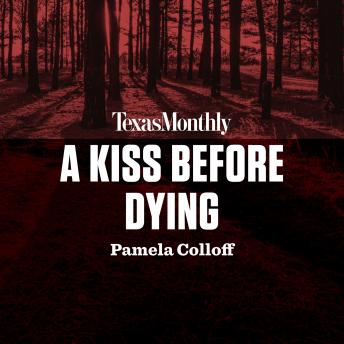 Duration:
0 hours 48 minutes
Summary:
In partnership with Texas Monthly, Pamela Colloff's 'A Kiss Before Dying' is now available as an audio download, where the length and timeliness of a podcast meets the high-quality production of a full-length audio program.

Few stories feel as classic as a well-told ghost story, the kind that makes your hair stand on end or sends chills down your spine even years after its alleged happening. Almost as classic are those stories that take place in high school, starring the jocks, the cheerleaders, and the outsiders; nostalgic for a time that almost certainly never was and yet remains a stalwart of American storytelling. Pamela Colloff's 'A Kiss Before Dying' is both kinds of story and what's more, it's all true.

Betty Williams was an outsider at a time when conformity was king: Texas in the 1960s. Mack Herring was the quintessential football player, handsome and well-liked by the sweater set-wearing girls Betty scoffed at. When their unlikely relationship came to an end and Betty's life began to spiral, she asked for death and Mack was more than happy to oblige. The resulting trial of Betty Williams's murder would shock no one familiar with the resolutions of today's rape cases.

In 'A Kiss Before Dying,' Pamela Colloff weaves together a story that's part true crime, part high school classic, that feels at once contemporary as it does of another time.
Genres: